Hold on to your butts, it's giveaway time! That's right, we have teamed up once again with the folks at HalloweenCostumes.com to give Jurassic Park fans the chance to become the envy of every Halloween party this year - a Tyrannosaurus Rex! We are giving away one inflatable Jurassic World T-Rex costume to the fan who answers the question below in the comments section of this article! A winner will be selected Sunday night, October 22nd so act fast if you wish to win this costume for yourself in time for Halloween!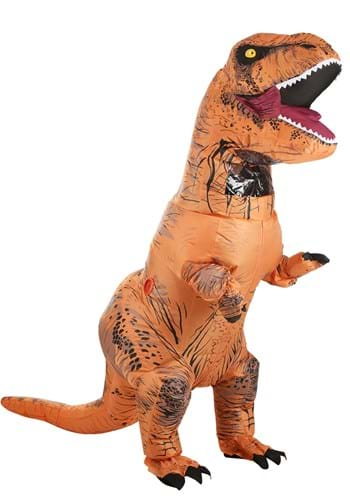 This unique and terrifying Jurassic Park costume is an inflatable jumpsuit that has a zipper closure at front and elastic at the wrists and ankles to keep the air in and to keep you looking just like a T-Rex (well, what we can assume a T-Rex looked like). Even though you are supposed to be a scary dinosaur, we wanted to make sure you could still see when you walk around this Halloween (or just down the street on a random Tuesday – we don't judge), so there's a clear vinyl port at the neck of the T-Rex so you can see your 'dinner' clearly. The fan that keeps you inflated – your costume, not your ego – requires four AA batteries that are not included with the costume (silly shipping regulations). Enjoy your night out on the town as the T-Rex you've always wanted to be with this Jurassic Park costume!
QUESTION: List your top 3 favorite scenes from Jurassic Park, The Lost World: Jurassic Park, Jurassic Park 3 and Jurassic World in the comments section below. Your top picks may all be from one of the films listed above, you simply have all of those films to draw from for your own personal selections.
RESTRICTIONS: Winner must be willing to provide mailing address and other personal information upon winning. Must have a valid Scified membership in order to post comments. Disqus / Guest comments will not be considered.
Head on over to HalloweenCostumes.com to browse other sweet Halloween costumes as well!
Find and share news like this with other Jurassic Park fans in the newly updated Jurassic World 3 forum! The Jurassic World 3 forum is an online community dedicated to nothing but Jurassic Park and Jurassic World fan discussions! Don't be a lurker, join the JP fan community today!
Written by Chris
Published on 2017-10-20 16:10:14
About Jurassic World 3
Jurassic World 3 is the third film in the Jurassic World trilogy and is the sequel to Jurassic World: Fallen Kingdom. For more on Jurassic World 3 including its plot synopsis, cast and character lineup, trailer and other information, visit the About Jurassic World 3 movie page!
Stay up to date with the latest news on Colin Trevorrow's Jurassic World 3 movie by liking us on Facebook and by following us on Twitter and Instagram!